As expected, uranium is breaking out...
Just last week, uranium broke to new highs. The 100% move is beginning. Here's what to do...
Uranium is the fuel used in nuclear power stations. And like most commodities, it goes through huge cycles of boom... and bust.
From 2003 to 2007, uranium saw a huge boom. It ran from $10 per pound to $130 per pound. But a sagging global economy helped pop the bubble. Prices fell all the way back down to around $40 a pound in three years.
In 2010, uranium rallied... But then the tsunami hit Japan's Fukushima power plant in early 2011. Japan was one of the world's biggest consumers of nuclear power, but the country shut down more than half of its reactors. Several other countries also scaled back their nuclear programs.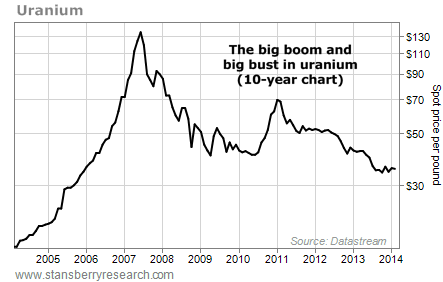 As a trader, whenever you see a sector get destroyed the way uranium was, you should get interested. After a 75% drop and a long slog sideways, most of the folks who are going to sell have already sold. Most of the risk has been "wrung out" of the trade.
Plus, when it comes to commodities, the saying is "the cure for low prices is low prices." Uranium spot prices are now so low that most uranium miners can't make money. Eventually, that will force producers to shut down. And lower supply will lead to higher prices. Most
uranium producers
aren't going to start making money until prices double.
Another catalyst for higher prices will be improving sentiment toward the sector. On Tuesday, Japan released a draft of its energy policy. It includes nuclear power in the mix... The country could soon restart some of its 48 idle nuclear reactors.
The news sent uranium to a new high... Uranium Participation Corp tracks changes in the price of uranium. Shares are up around 25% from their October lows... And they just struck a new two-year high.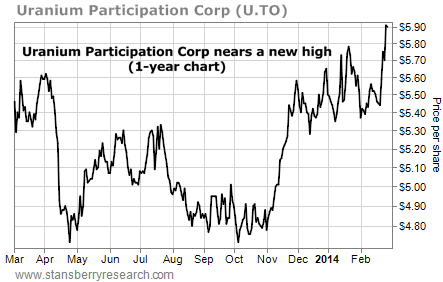 If you haven't bought yet, it's not too late. For proof, take a look at this longer-term chart. As you can see, Uranium Participation Corp is just beginning to move higher off its lows.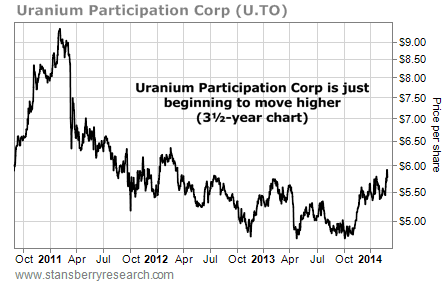 There's a bull market coming in uranium. It's not going to happen overnight... But this latest move higher could be the beginning. Don't miss it.
Good trading,
Amber Lee Mason