Tomorrow, we should know which way the world is headed.
That's when the Federal Open Market Committee (FOMC) is going to answer some important questions.
What will the Fed do about its
quantitative easing
program? Will it taper back on the $85 billion-per-month money pump, starting this month? Will it wait until March? Will it extend quantitative easing forever?
The decision is likely to spur some volatility in the U.S. stock market. Traders are nervously awaiting the outcome.
Meanwhile, foreign investors aren't sticking around to find out.
Earlier this month, we looked at the
precarious condition of the S&P 500
. The chart shows the index breaking down from a bearish rising-wedge pattern. It projects a move at least as low as 1,750 and possibly all the way down to 1,650.
As it turns out, the world looks just as bad.
Stock markets around the world have been selling off lately. Seven of the eight major
European markets
are now in confirmed downtrends (meaning a pattern of lower highs and lower lows). Hong Kong, India, and South Korea markets have turned lower as well.
Here's a chart of the Dow Jones World Index (the "DJW")...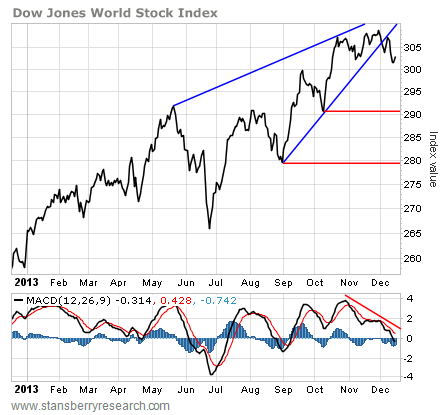 The DJW broke down from the rising-wedge pattern in early December – at about the same time the S&P 500 broke its pattern. Since then, the DJW has come back up to test the former support line of the wedge as resistance. And it has fallen back down to make a lower low and break below the first red support line on the chart.
That action brings the next support line at about 291 into play. Failing to hold that level should lead to a test of the bottom support line of the wedge at 280. That's more than 7% below Monday's closing price.
Only a move back above the late-November high and into the wedge will negate the pattern in the short term. For now, the world looks bad.
We should know for sure which way the world is headed after the FOMC wraps up its meeting tomorrow.
Best regards and good trading,
Jeff Clark