Real estate investors could have saved a chunk of change... if they had followed my "timing trigger."
Over the past couple weeks, I've been walking you through how to time your purchase of income investments. My strategies allow you to collect higher dividend payments and larger capital gains.
They also work in real estate...
Real estate investment trusts (or "REITs") allow income investors to collect "rent" without the hassles of owning property...
A REIT is essentially a management company that owns property... It collects rents. And it gets big tax breaks in exchange for agreeing to pass on the vast majority of its annual income to shareholders.
That makes them popular income investments. But like any investment, you'll do better if you buy at the right time...
The first "test" I use for REITs is to look at "funds from operations."
You see, most investors evaluate potential investments based on earnings. But that will get you in trouble with REITs... For tax purposes, REITs intentionally try to make their earnings look as low as possible.
"Funds from operations" (FFO) better reflects the rents a REIT collects from its tenants. And just like a price-to-earnings ratio, you'd prefer to buy REITs with a low price-to-FFO ratio (P/FFO). A low P/FFO ratio means you're getting a better value for your investment dollar.
And my research proves it out...
Going back 10 years, a strategy of buying the REITs with the lowest P/FFO ratio outperformed buying REITs with high P/FFO ratios... and it outperformed the sector as a whole.
It's a more volatile strategy... But if you started with $100,000, you ended up with an extra $50,000.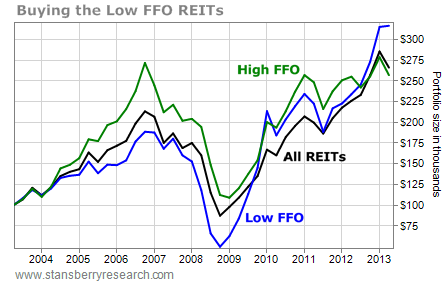 The second "test" I use for REITs is to look at whether the overall sector is a good buy...
I start by comparing the yield on REITs as a whole with the yield on 10-year corporate bonds. The more REITs pay compared with corporate bonds – the bigger the "spread" – the better. It means REITs offer better relative value.
Next, I take that spread and compare it with the average spread over the last year. That lets me pinpoint short-term selloffs, which can be great times to buy.
When the indicator is below -0.3, it's time to buy REITs. And when it's above 0.5, it's time to sell. You can see that the indicator suggested buying right at the bottom after the 2008 collapse. It also suggested selling right as the market turned sour in the housing bust. It could have saved you a significant chunk of change.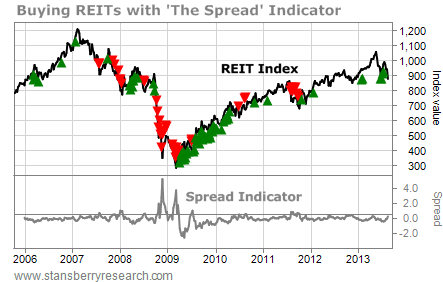 When you apply this idea to specific REIT purchases, you can see tremendous profits... And the more volatile the REIT, the bigger the difference this "timing trigger" can make...
Take General Growth Properties (GGP), for example. It's one of the largest and most widely held REITs in the market. If you had held the stock from 2006 until now, you'd have lost about 45%. But if you had only held when my spread indicator said that REITs were a buy, you'd have made 296%.
The Macerich Company (MAC) returned 79% with the spread indicator... versus a loss of 15.3% for buy and hold. SL Green Realty (SLG) returned 265% with the spread indicator... versus a loss of 7.9% for buy and hold.
Right now, the system says REITs are a good buy. A few REITs with low P/FFO ratios are Gladstone Commercial (GOOD), Hospitality Properties Trust (HPT), and CommonWealth REIT (CWH).
These are not official recommendations. But if you're looking to buy REITs, it's a place to start your research.
Here's to our health, wealth, and a great retirement,
Dr. David Eifrig