Two weeks ago, the Department of Energy (DOE) approved the country's fourth natural gas export facility.
This is the latest development in a trend I've been tracking since early this year...
As longtime readers know, America has an abundance of
cheap natural gas
. Worldwide, supplies are lower and prices are much higher.
This is a huge opportunity for folks who can get our cheap natural gas to the global market... And it's setting up a potential triple-digit trade.
The natural gas market isn't a typical "global" market, like the one for iron ore, copper, or crude oil.
Right now, natural gas cannot be easily shipped over the ocean like a load of iron ore. It requires extremely expensive, extremely complex loading/unloading terminals and ships.
Because of the cost of these terminals, we don't have an extensive transportation network for natural gas. Thus, natural gas prices can be very low in North America but very high in Asia.
As you can see in the map, there is an incredible opportunity to produce gas at cheap prices in America – and ship it to the rest of the world at a 200%-400% premium.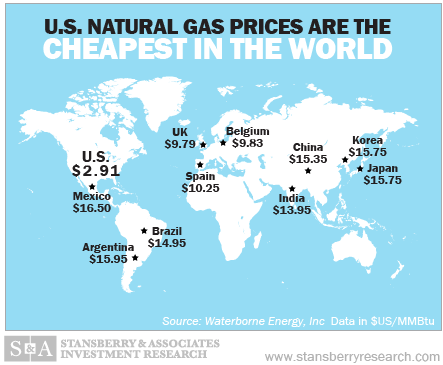 The second approval happened in May... when the government gave permission to LNG terminal operator Freeport LNG to export natural gas from its Quintana Island, Texas facility.
And the fourth LNG export facility was just approved by the government. Energy giant Dominion Resources will be able to export natural gas from its Cove Point terminal in Lusby, Maryland.
Like I mentioned, there will be many more of these exporting facilities receiving government approval in the months and years ahead. And a handful of businesses will be huge beneficiaries.
The immediate beneficiaries are Chicago Bridge & Iron (CBI) and KBR (KBR). These companies build LNG facilities – which could cost $5 billion to $10 billion to manufacture.
CBI receives more than 30% of its revenue from building LNG projects. The stock is already up 100% from its 2012 lows.
I've been telling you to watch for a pullback here... but we haven't had much luck. CBI just hit a new high yesterday.
KBR receives 40% of its revenues from LNG projects. This stock pulled back below the $30 level several times over the past few months. And today, shares are trading at $32.
At this price, KBR is a steal, trading at just 10 times forward earnings. That's super-cheap for a stock in the middle of one of the biggest game-changing growth trends in the energy space.
Another way to place this trend is to buy Teekay LNG Partners (TGP) and Golar LNG (GLNG). These companies own vessels that transport LNG.
They pay high yields, around 5%. But as more LNG export terminals have received approvals, they've seen their stocks run higher. Now, at 20 times forward earnings, these LNG shippers may look expensive. But this industry has high barriers to entry. It would cost a ton of cash to become an LNG shipper. Plus, there are not many existing fleets able to ship LNG.
Whether you buy the builders or the shippers, I wouldn't wait long to get into your positions.
The DOE is approving these exporting facilities much faster than I originally predicted – including two since August. It's just a matter of time before these stocks ramp higher.
Good investing,
Frank Curzio