Most investors buy gold as financial-disaster insurance.
In the case of the dollar collapsing, they want to own gold bullion – which has zero debt associated with it. We saw gold soar to all-time highs in the wake of the financial crisis.
But since peaking at $1,900 an ounce, it's dropped to $1,600. And the reason is simple...
Gold is dropping right now because financial stocks are rising. As long as financial companies continue reporting big earnings, gold will likely be in a holding pattern.
A lot of people use gold to hedge their positions in financial companies. The two are seen as opposite sides of the same coin. If the dollar is strong and viable, bank stocks are going to do well... and gold won't. If the dollar is in crisis, bank stocks are going to get clobbered... and gold will soar.
Look at a chart of Bank of America (NYSE:
BAC
) versus gold... You'll find a strong inverse correlation. When gold rises, Bank of America declines, and vice versa...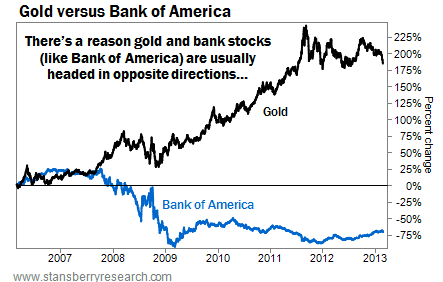 As long as the bank stocks are going up, gold is going to stall (though I don't believe the price of the metal will crash). And I'm bullish on financial stocks right now...
I have told people a great way to hedge against the coming inflation in the short term is to own bank stocks. Why? The government is making the dollar so cheap for banks, it's virtually impossible for them to not make a fortune lending that money at higher rates.
In the process, they're going to re-inflate the entire economy. In the near term, it's going to feel great. It's going to feel like we've solved all our problems and everything's fine...
But the end-game is a huge inflation.
We haven't really created any more productivity in our economy. We haven't really gained an important, material competitive advantage all of a sudden... And we haven't done anything to solve our fiscal crisis. In fact, we've only made it worse.
We haven't done one thing to solve the political problems that lead to overspending. At the core, these issues are driving gold.
I think bank stocks are going to rally for the duration of this current bull market. I don't know how long it will last. But I do know, in the end, gold will win.
So I would recommend you do own some bank stocks for now... and keep your gold. When the next crisis arrives, you're going to be glad you've got your gold. And it will be time to sell your bank stocks. It's simple.
I personally have not bought gold this year. I think it's a little too expensive. But I haven't sold any, either. So right now, I'm on the sidelines when it comes to gold... and I'm long bank stocks.
Good investing,
Porter Stansberry