"We are about to get a real close look at one of the greatest shale areas this country has ever seen," my friend Cactus Schroeder told me last night.
I called him up to get an update on the Texas oil scene. Cactus is a 30-year veteran of the oil industry... with personal interests in over 1,000 drilling projects throughout Texas. In October, he took me on a 600-mile trip through west Texas. We started in the Eagle Ford shale, and then headed to some of his personal oil properties in the northwest.
When it comes to
shale oil production
, the Eagle Ford and North Dakota's Bakken shale grab most of the headlines. But Cactus has his sights set on a new shale area... He's buying up property there right now.
If he's right, several of the companies drilling there could make a killing as this small, oil-rich region becomes "The Next Eagle Ford"...
As you may recall, the Eagle Ford is an "unconventional" oil and gas play... meaning it isn't a traditional reservoir, where we can drill a well that acts like a straw and sucks up the oil and gas. Instead, the region is made up of a series of thin rock layers. The oil and gas are trapped between these layers, which makes traditional oil drilling useless.
But thanks to new drilling technologies like "fracking," major oil producers can tap new deposits and rejuvenate wells long thought to be dry – recovering more oil and gas than was previously thought possible.
Oil production in the Eagle Ford
and the Bakken is changing the landscape of the industry. In fact, there's so much oil production coming out of these areas today, the International Energy Agency (IEA) predicts the U.S. will produce more oil than Saudi Arabia within eight years.
Cactus has made a killing drilling for oil in the Eagle Ford. But now, he's investing his own cash in a new area that he believes could be much bigger. It's the Cline shale in northwest Texas...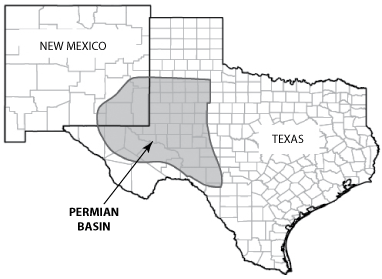 The Cline lies roughly 9,000 feet below the surface in an area known as the Permian Basin (shaded above). It runs about 140 miles long and 70 miles wide.
Over the past three years, some of the biggest exploration companies have set up shop in the area. Devon Energy (NYSE: DVN) owns over 600,000 acres of land there. Apache (NYSE: APA) has interests in over 500,000 acres. Pioneer Natural Resources, Range Resources, and FireWheel Energy (which became a separate company after the XTO and ExxonMobil merger) are also drilling in this promising area.
Devon estimates that the Cline formation contains over 30 billion barrels of recoverable oil. That's why Cactus calls it "The Next Eagle Ford" – it could contain three times more recoverable oil than the Eagle Ford. (And six times more than the Bakken.)
These numbers may sound farfetched. But Japanese energy giant Sumitomo invested $1.4 billion for a 30% stake in Devon's Cline shale assets in August. Three months ago, Chevron bought over 700,000 acres in the Permian Basin from Chesapeake Energy for $7 billion. More than 150,000 acres of this is in the Cline shale.
Devon is actively drilling in this area right now. Cactus says we will know a lot more about the Cline's potential in about four months, at the end of the first quarter of 2013. That's when Devon is expected to release some of the first Cline shale data to the market.
My advice is to scale into the large oil producer before these results are released. Devon's share price is well off its high. The stock is trading at just 12 times forward earnings – much cheaper than competitors Range Resources and EOG Resources. It's also trading below book value.
If the data is as positive as Cactus predicts, the value of Devon's land in the Cline region will soar. That would likely boost the stock price from today's super-depressed level.
Good investing,
Frank Curzio