In the March 2011 issue of
True Wealth
, Steve Sjuggerud implored subscribers to invest in U.S. housing... He pointed to the low home prices in Las Vegas as an example of the great deals available...
"Price of existing homes at 20-year low in Las Vegas." That was a headline in the Las Vegas Sun this week...
Twenty-year lows in home prices might sound bad, but the reality out in Vegas is even worse. House prices in Vegas are more likely at 50-year lows, when you adjust for inflation. Take a look at the chart below. The Nasdaq-style boom-then-bust in Vegas is obvious.
Las Vegas homes are likely the cheapest in history if you adjust for square footage. (Homes have doubled in size in the last 50 years.) The Las Vegas Sun reported the median price paid for a house in January was $109,000, out of 3,800 homes sold last month.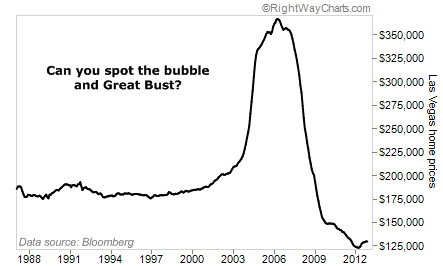 Using back-of-the-envelope math, Steve took the median U.S. home size of more than 2,000 square feet and multiplied by $100 per square foot (what it costs to build a decent home). Adding in the cost of the land beneath the house, Steve estimated the median home in the U.S. cost $225,000 in 2011... So you could buy a house in Las Vegas for less than half its replacement value.
Low prices – combined with record-low mortgage rates – led to "the
best time in American history to buy a house
," according to Steve. On a side note... 30-year mortgage rates were at 5% when he wrote this piece. Today, they're around 3.4%.
In short, Steve believed the housing market had bottomed. And he recommended the iShares Dow Jones U.S. Home Construction Fund (NYSEARCA:
ITB
), a collection of homebuilders and housing-related stocks, like Home Depot, to play the trend.
True Wealth
readers are up more than 55% so far on the recommendation.
Steve also recommended
mortgage REIT Two Harbors
to profit from the rebound in housing. Readers are up nearly 30%... and they continue to collect double-digit dividends from the stock.
But the bullish housing news keeps coming... And there are still opportunities to profit from the trend...
U.S. home prices rose for the sixth straight month in September, according to the S&P/Case-Shiller Home-Price Index, released earlier this week. The non-seasonally adjusted 0.3% increase in September signaled the housing market is "in the midst of a recovery," according to the index. That's on top of a 0.8% increase in August. And home prices were up 3% from September 2011, the largest annual percentage growth since July 2010.
Las Vegas and San Diego were the big one-month gainers, with home prices up 1.4% from the previous month. Phoenix has the biggest annual gain, with home prices up 20.4% from September 2011.
Despite the rebound in prices, Steve is still incredibly bullish on housing... And he recommended one of the largest U.S. buyers of
single-family homes
in his latest issue of
True Wealth
.
This company is comprised of some of the brightest investors in the world... And it's spent more than $1 billion on housing just this year. I can't get into much more detail without divulging the name of the stock, but the company is dirt-cheap from a valuation standpoint. From the latest True Wealth...
We're at the end of 2012. It's time to start looking ahead at the earnings estimates... [Based on forward earnings estimates] the stock is trading at a forward price-to-earnings ratio of LESS THAN FIVE. That is ridiculous!
With earnings like that, analysts estimate the 2014 dividend will be around $1.38 a share. A $1.38 payout (based on today's stock price of $13.50 a share) would be a 10%-plus dividend!
If the stock earns $3 per share in 2014 and trades for 12 times earnings (as I believe it could), the share price would be around $36. Also, if the company pays out a dividend of just $1.38, the dividend yield would be 3.8%.
I think the stock could go higher than $36 a share...
You see, in 2014, we will still be in our zero-percent world, thanks to the Federal Reserve. The stock price could jump to $46 – which would still be a 3% dividend yield (based on a $1.38-per-share annual dividend).
A move to $46 a share would result in a 240%-plus capital gain from today's price. And we'll still be in position to collect a 10% – and potentially growing – dividend based on our purchase price.
These numbers seem crazy. But this company is crazy-cheap today. Triple-digit gains are more-than-possible here.
If you're looking for exposure to U.S. housing, but you don't have the capital or time necessary to actually purchase and manage a property, Steve's latest recommendation is your best bet. The stock is "crazy cheap." It pays a healthy dividend, which Steve believes it could increase. And he believes shares could soar from today's levels.
To sign up for
True Wealth
and gain access to Steve's latest recommendation,
click here
...
Regards,
Sean Goldsmith