Gold stocks were a hated asset a few months ago.
I'm sure most investors don't remember. After all, the price of gold just touched $1,600 an ounce this week – an all-time high. Most gold stocks have also had a heck of run in July.
But back in a two-week stretch from April through May, the picture was different. Gold stocks were in a violent downtrend.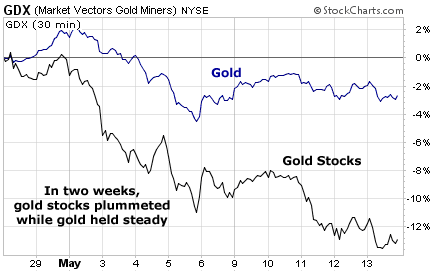 The pullback in gold stocks was unusual. After all, the price of gold barely budged. Yet, gold stocks corrected more than 12%.
My colleague Jeff Clark used this disconnect to buy gold stocks in his
Short Report
newsletter. Jeff argued that as long as gold prices remained near record levels, it was just a matter of time before
gold stocks snapped back
.
He was right. This month, the large-cap gold index is up 12%, outpacing gold's gains.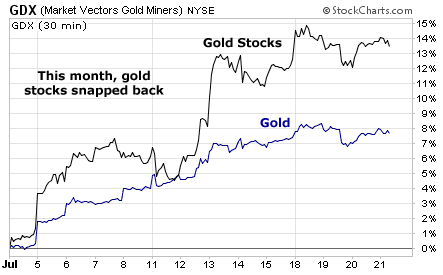 With gold prices touching new highs and gold stocks bouncing back, should investors take profits?
I asked legendary commodity investor Jim Rogers this question on this week's
S&A Investor Podcast
. That's our radio-like show, where I interview the market's top hedge-fund managers, economists, and stock analysts. (You can listen to the full interview for free by
clicking here
.)
Jim and I talked about the dollar (he is long as a short-term trade right now), how he invests in commodities, and the recent move higher in gold prices.
Jim said he hasn't sold any of his gold. In fact, he just added to his position last week.
Jim believes the fundamentals behind gold remain compelling... Demand from China and India is surging. Due to our reckless spending habits, the dollar will be worth nothing more than confetti. Plus, there is little supply of the metal.
Conventional wisdom tells us we should buy assets low and sell high. But Jim Rogers, the smartest person in the room, continues to buy gold with the price up 100% in two years.
If Jim's right and gold prices push higher, margins for gold producers will soar. The cash cost for most major companies to produce an ounce of gold is less than $500. Just imagine the earnings these companies will report if gold prices push past $2,000 an ounce.
I would think twice about selling your gold stocks on this short-term rally. In fact, it may be a good idea to add to your gold positions right now.
Good investing,
Frank Curzio