"We think shares could be weighed down indefinitely."
When I look for new ideas, I love hearing comments like that. It was made by investment firm Janco Partners in December 2009. The analyst was referring to Take-Two Interactive. The video game publisher reported one of the worst earnings outlooks I've ever seen.
Take-Two had a history of reporting weak earnings results. But it really shocked analysts after it changed its $0.59 profit forecast in the coming quarter to a $0.60 loss. The stock fell 30% on the news.
But despite what Janco's analysts thought, the news wasn't all that bad. Take-Two did not lose a major contract. It did not have regulatory issues. The company simply delayed several of its video game titles. In other words, its profit outlook would be much better once these new titles were released.
That's why I used the weakness to recommend the stock to Penny Stock Specialist subscribers. We bought under $8. Shares are up over 120% in less than 18 months.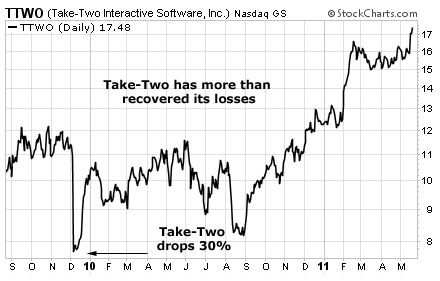 I'm not telling you this story because I need an ego boost. I'm telling you because it holds the key to doubling your money...
There is huge volatility in the markets right now. Growth in the U.S. is slowing... China and India are having trouble controlling inflation... The Fed's latest money-printing program – which has been a boost to stocks – will end in June...
These headwinds get daily coverage in the media. They create fear in the marketplace. And investors are quick to hit the sell button on the first sign of bad news.
Over the past three weeks, several small-cap commodity stocks have fallen 30% or more. The long-term outlook for some of these companies could not be stronger. Even large-cap bellwethers like
Cisco
, Hewlett-Packard, and Freeport McMoRan are down 20% to 30% in the past few months.
I'm not saying the stocks are a buy. But will the problems these companies face still exist 18 months from now? This is the question investors should be asking themselves when a stock falls 30% on bad news.
For Take-Two, the answer was no. The company had one of the best pipelines of video games in the industry. It was just a matter of time before the company's results improved and shares recovered.
Good investing,
Frank Curzio