Natural gas stocks have been on fire over the past three months.
In fact, it's one of the best-performing sectors in 2011. The chart below compares a large fund of natural gas producers to the S&P 500. As you can see, natural gas stocks have outperformed the large-cap index by more than 12 percentage points since January 1.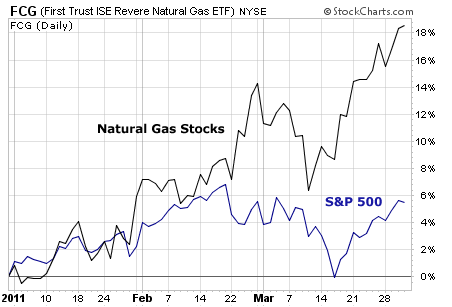 My
Penny Stock Specialist
subscribers have taken full advantage of this trend. Two months ago, I published a report called "How to Make a Fortune on the Shale Gas Megatrend." I highlighted three under-$10 natural gas stocks that have more than 200% upside potential.
Buying shale gas assets is the easiest way for large oil companies to keep their reserve replacement ratios above 100%. (At a 100% reserve replacement ratio, a company is replacing one barrel of oil for each one produced.) And I expect all the Big Oil money flowing into the sector will keep prices moving higher.
But stocks in natural gas producers aren't the only way to play the boom in this sector. Another way is to buy companies like
Westport Innovations
(WPRT) and Clean Energy Fuels (CLNE).
Westport is one of the few companies in the world to make auto engines that run on natural gas. It has a partnership with three of the largest engine manufacturing companies in the world – including Cummins. Clean Energy Fuels builds natural gas fueling stations. They operate hundreds of these gas stations across the U.S.
I know what you're thinking... Despite oil prices over $100 a barrel, we're years away from cars running on natural gas. But right now, legislation (the "Pickens Plan") is passing through Congress that will provide big incentives for heavy duty trucks to change from diesel engines to natural gas.
About 5 million heavy-duty trucks operate in the U.S., consuming more than 1.6 million barrels of oil per day. Studies by the U.S. Department of Energy suggest our domestic oil consumption would fall 12% if these trucks converted their engines to run on natural gas.
If this legislation passes, Westport and Clean Energy Fuels will be huge winners. In fact, these two companies will have a near-duopoly on the natural gas engine market. And after President Obama's recent speech on energy, these stocks jumped more than 10%.
The president talked about reducing our dependence on foreign oil by using more natural gas. Some industry professionals viewed this as an endorsement for more natural gas vehicles. That would be a huge positive for Westport and Clean Energy Fuels.
These natural gas plays have huge long-term potential. But with the recent run up, the prudent move is to wait for a better entry. The market has been extremely volatile. And you'll likely get an opportunity to buy these growth companies at lower prices.
Good investing,
Frank Curzio