There's a major downturn taking place in stocks right now.
I'm sure that sounds odd to many of you. After all, the Dow Jones Industrials just surged to a new high on Wednesday. But let's take a look at the 30-day chart below
...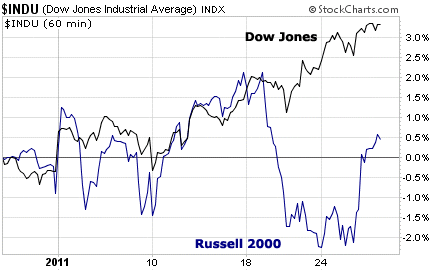 The Dow Jones tracks 30 large, industry-leading companies. The Russell 2000 is an index of small-cap stocks. As you can see, the Dow Jones has outperformed the Russell 2000 over the last two weeks.
The Dow Jones eclipsed 12,000 for the first time in three years. By reading the financial headlines, it would seem every stock is moving higher. It's not true.
Over the past month, many "momentum" names have sold off. Cloud-computer play F5 Networks is down more than 30% since reporting earnings last week. Chipotle is 15% off its 52-week high. Even investor favorites like Amazon and Apple have pulled back. Small-cap natural resource and tech stocks are selling off as well. Companies like Pan American Silver and MIPS Technology are down more than 25% in the past few weeks.
These high-growth names outperformed the market for so long, investors fell in love. The media has lavished them with attention, and institutional analysts rated them "buys." Investors bought these stocks as they moved higher – regardless of fundamentals. And they helped carry the whole market to new highs.
A selloff here is bad news... at least in the short term.
When these stocks break down, they go down hard. After all, most were trading higher based on their technical pattern. When the patterns break, traders run to the exits. And despite the recent pullback, most momentum stocks remain significantly overvalued. Fundamental investors are still not interested in buying.
This lack of support could push these stocks down even farther. If additional weakness develops among America's most loved stocks, we could see one of two scenarios play out:
In the first scenario, investor sentiment turns negative. Weakened sentiment combined with bad news out of China and Europe could lead to panic selling. If this happens, we will see money rush out of stocks and into money market accounts. This could result in a quick correction of 10%-12% in the S&P 500 over the next few months.
The second scenario is more likely. We will see money flow out of momentum names and into large-cap Dow components like Microsoft, Intel, Wal-Mart, and Procter & Gamble. This trend has already begun. It's no coincidence these cash-rich industry leaders are trading near their 52-week highs while momentum names are down 15%-25%.
For my Penny Stock Specialist newsletter, I'm looking forward to the correction in small-cap momentum names. A 20% drop would create incredible buying opportunities in stocks whose long-term growth stories are still intact.
Good investing,
Frank Curzio