There's an interesting piece of research making its way around Wall Street this week.
It's from banking giant Credit Suisse… and it concerns the U.S. dollar.
As
Jeff Clark outlined last week
, the dollar has suffered an enormous fall in the past month… and is down 12% from its summer high. This is a huge fall for a major currency in such a short time.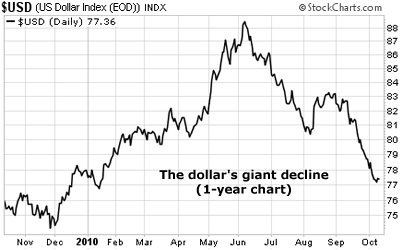 The weakness is driven by the belief that the U.S. government will print money in order to pay for our huge "bailouts and handouts" stimulus programs and the debts they pile up. While that's a valid long-term concern, in the short term, shorting (and hating) the dollar is now the world's most popular trade.
The interesting report from Credit Suisse notes that shorting the dollar is so popular right now, speculative bets against the currency are at an extreme level we've seen just five times in the last 10 years.
Each time these extreme "dollar hating" levels were reached, the dollar staged a three-month rally 100% of the time… with an average gain of 2.5% (a big short-term move for a major currency).
Sure, the dollar has big long-term problems. Sure, we're in a big hole of government debt and digging for more. But when a specific trade gets extremely popular, it's like a boat's passengers crowding themselves on one side of the ship. It's perfectly natural for the ship to tip over and throw them all into the water, then lurch in the opposite direction.
If you've been short the dollar the past few months, congratulate yourself and take profits. If you're looking to take any "anti-dollar" positions, like buying gold and silver or other commodities, you're likely going to suffer a severe short-term setback on your position.
There's a huge crowd huddled on one side of the boat… and the odds are excellent they're going into the water soon.
Good trading,
Brian Hunt