Some of the world's best businesses have the big trend in their favor... And Growth Stock Wire readers are making great money on it...
Last spring, we wrote several essays showing you that some of the greatest tech companies in the world had suffered terrible corrections... and were trading at cheap valuations.
We told you to "go long" using a special leveraged fund.
If you took our advice then, you've made good money. And the great news is, these same conditions are still in place.
Big Cheap Tech could power much, much higher...
At this time last year, stocks like Microsoft and Intel had suffered huge corrections. Folks were worried about the "
Death of the PC
"... which would reduce demand for these companies' products.
Apple, too, was well down from its highs. The stock had reached a frenzy of popularity... and the bubble burst, sending shares down 44%.
We suggested buying a "basket" of these stocks through the
ProShares Ultra Technology Fund (ROM)
. ROM is an exchange-traded fund designed to return double the performance of the Dow Jones U.S. Tech Index.
It holds stakes in more than 100 companies. But about 70% of its weighting is in just 10 stocks... most of which are the Big Cheap Tech "dominators."
As you can see in the chart below, ROM has powered higher over the last eight months. Shares are up 44% since our April note.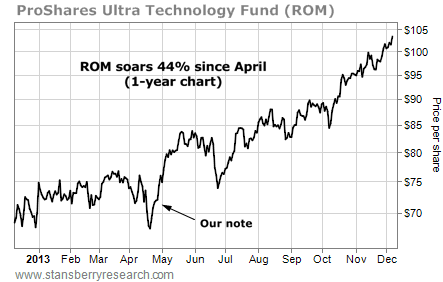 The thing is, this incredible run higher could continue...
Cisco, for example, has $48 billion in cash. That's 42% of its market cap. So buying a Cisco share is like buying a sweater for $100 and finding $42 in the pocket. Once you take that cash hoard into account, you're only paying about six times what the company is expected to earn in 2014.
Other major ROM holdings trade for between eight and 10 times forward earnings, once you account for the cash.
In other words, despite their strong recent gains, tech stocks are still cheap... and you shouldn't get scared out of them. This uptrend could run much further from here. If you own "Big Cheap Tech," stay long.
Good trading,
Amber Lee Mason and Brian Hunt