By Sean Goldsmith
Saturday, April 25, 2015
The Weekend Edition is pulled from the daily Stansberry Digest. The Digest comes free with a subscription to any of our premium products.
The People's Bank of China (PBOC) is in an all-out currency war.
On Sunday, China's central bank cut the amount of cash that banks must hold on reserve. The PBOC cut the reserve requirement ratio for all banks by 100 basis points to 18.5%, effective April 20. Lower reserve requirements encourage banks to lend more money.
In November, China cut its benchmark interest rate. In February, the PBOC cut rates again. A central bank official said it was to fight "deflationary risk and the property market slowdown." Then, last month, the PBOC lowered the overnight lending rate it charges commercial lenders from 5% to 4.5%.
The message is clear: The world's fastest-growing economy is slowing down. A recent report published by Xinhua News Agency – the official news service of the PBOC – stated...
Though the growth in the first quarter met the official target of around 7% for 2015, the slowdown in several areas, including industrial output and retail sales, has caused concern.
As regular readers know,
True Wealth
editor Steve Sjuggerud is
bullish on Chinese stocks
. I asked him for his thoughts on China's latest move. As he explained to me via e-mail...
Last year, China reported its slowest calendar-year growth rate in 24 years. As you might expect, China's central bank is trying to stimulate its economy. Regardless of how it does it, the end result should be the same as what we've seen in the U.S., Europe, and Japan: higher asset prices.
It has already started... Chinese stocks are up more than 100% in the last 12 months. Importantly, unlike the U.S., China's easing is just beginning... so Chinese stocks can move much higher from here.
Editor in Chief Brian Hunt recently wrote about the rally in Chinese stocks and Steve's bullish call
here
.
In short, Steve became bullish on China late last year because valuations were cheap and the government was dedicated to stimulating the economy and encouraging investors to buy stocks.
As you can see from the chart below, his thesis was right on...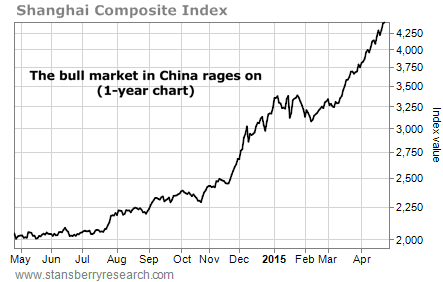 True Wealth
subscribers are up 92% on the Deutsche X-trackers Harvest China A-Shares Fund (ASHR), which Steve recommended in mid-September. But there are more gains to come...
Billionaire hedge-fund manager and trading legend Stanley Druckenmiller agrees. Druckenmiller worked for billionaire investor George Soros when they "broke the Bank of England" by shorting the British pound. And he went on to make billions of dollars himself in his hedge fund, Duquesne Capital.
Druckenmiller recently appeared on Bloomberg Television, where he talked about the boom in Chinese stocks...
The Chinese stock market is up, I don't know, 140% in six months after being in a downtrend for five to seven years, and it's doing so on record volume with record breadth.
If it was any other stock market or certainly any developed market, I would tell you, being a market observer, there's a 98% chance China will be in a cyclical boom six to 12 months from now. Because it's China, and we don't know the nature of what we're dealing with here relative to normal mature developed markets, I would downgrade that assessment from 95%, but I would still hold it over... I would point out that the H-shares in Hong Kong representing China are 10.1 times earnings.
Steve wrote about how cheap H-shares are today versus their mainland China counterparts. In many cases, the same companies trade in both Shanghai and Hong Kong. But the shares of the exact same company are much cheaper in Hong Kong. In Tuesday's edition of our free e-letter
DailyWealth
, Steve called it "
the biggest anomaly in finance today
"...
Chinese stocks are up more than 100% in the last 12 months. (No, I am not kidding.) Meanwhile, the main Hong Kong stock market index is up less than 20% in the last 12 months. Today, as I write, the Chinese shares are at a 29% premium valuation to the identical shares trading in Hong Kong. This chart shows it...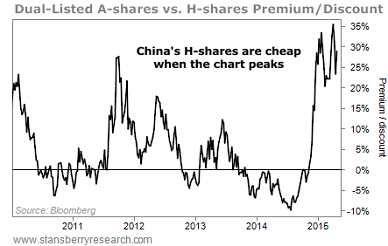 Steve recently made another major prediction about China. He believes China's stock market isn't the only asset that will soar in value.
For years, China has been working to diminish the global role of the U.S. dollar and make its own currency, the yuan (or "renminbi"), more powerful. He says we'll likely see an announcement this October from a powerful and secretive financial body that could drastically shift the global economic landscape. If you're on the right side of this shift, you could make a huge profit.
Steve just released a video presentation explaining his prediction. If you're an investor, you don't want to miss it. If his prediction is correct, anyone who owns stocks, bonds, real estate – honestly, almost any financial asset – will be affected.
You can view Steve's presentation here
.
Regards,
Sean Goldsmith
Editor's note: On October 20, an important announcement could create a once-in-a-lifetime opportunity for investors. Whether you own stocks, bonds, real estate, or just cash in a bank account, you must be aware of what's about to happen... otherwise, you are ignoring what might be the easiest and safest way to protect your family from the inevitable upcoming financial crisis.
Fortunately, Steve has prepared a presentation detailing the four steps you should take right now to prepare for this announcement. These steps will help you protect your savings and investments
and
will set you up for extraordinary gains in the next few years. You can learn all about this opportunity
right here
.
Date Range:4/16/2015 to 4/23/2015
Date Range:4/16/2015 to 4/23/2015