The zombies are taking over.
Let me explain...
Last July, we discussed "
zombie wells
" – wells that have been drilled but not completed. The wells aren't fracked or set up to produce oil. They're essentially dead wells, waiting to come alive as soon as oil prices rise.
There were 4,230 zombie wells as of April 1, according to Bloomberg Intelligence. They're evenly divided among four major shale plays: North Dakota's Bakken, Colorado's Niobrara, and Texas' Eagle Ford and Permian Basin.
That's about 10% of all the wells drilled in 2014. It's a lot of oil just waiting to come to the market. Here's what I wrote last year when I was first worried about it...
It means there's a huge buildup of oil waiting to hit an already oversupplied market. When prices get high enough, this oil will flood pipes and refineries... which could cause prices to fall again.

Back then, we didn't know when those wells would go into production. Now we do.
The good news is that if oil prices stay above $40 per barrel, that will kill the zombies. In other words, oil companies will complete these wells as long as oil prices remain at or above today's levels. According to Bloomberg Intelligence, 70% of the zombie wells in Texas will be completed by the end of 2017.
As you can see from the chart below, prices are heading toward that critical point...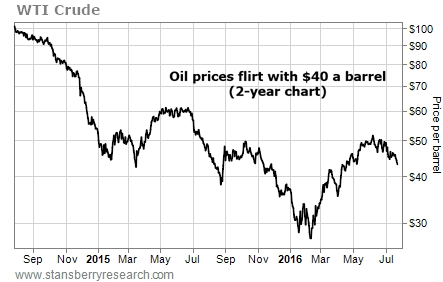 As the zombie wells come online, the oil market will be flooded with more supply... which will slow the decline in U.S. production... and keep oil prices lower for longer.
As I explained last week, the current oil supply is only about 2 million barrels of oil per day more than demand. The predicted decline in U.S. production would cut half of that out. As that happens, oil prices will continue to rise.
But because zombie wells could prolong that decline and keep oil prices lower, we aren't ready to go out and buy a ton of oil producers yet. As the industry continues to wake back up and complete the zombie wells to pump money back into the industry, service companies that took huge hits to their revenue will profit.
Put some high-quality oil-services companies – like Schlumberger (SLB), Halliburton (HAL), and Baker Hughes (BHI) – on your watch list today. When we see confirmation of an uptrend in oil prices, shares of these companies should rebound sharply.
Good investing,
Matt Badiali