Porter's predictions are starting to come true...
According to ratings agency Moody's, stress in the high-yield (or "junk") bond market has now soared to a new six-year high...
This week, Moody's said its Liquidity Stress Index – which measures the number of companies that carry the agency's lowest liquidity rating, and is predictive of future defaults – jumped from 6.8% in December to 7.9% in January.
Not only is that the highest reading since December 2009, but it's also the largest one-month increase in the index since March 2009.
Regular readers know the energy sector has been one of the largest abusers of high-yield financing.
Porter summarized the issues the energy sector is facing
in November
...
Nearly all the growth in the U.S. high-yield bond market over the last decade is related to oil and gas exploration and production. Since 2010, more than $500 billion worth of new corporate debt was raised for U.S. onshore oil and gas producers. It's this capital that financed the oil boom – which is responsible for all the net job creation in the U.S. since 2009.
These debts cannot be repaid with oil prices at less than $60. And yet they're all coming due between 2016 and 2020.
As these debts go bad, even major oil companies will see their bonds downgraded and their dividends cut. For the banks, insurance companies, private-equity funds, and pension funds that provided this initial capital, there's a tremendous amount of pain ahead.

While the energy sector continues to be the main driver of weakness, Moody's also noted that it is seeing weakness spreading further outside of the energy and commodities sectors.
Late last month, Moody's put 120 oil and gas companies – representing nearly $500 billion in energy debt – on review for a downgrade. Notably, the list included several blue-chip "Big Oil" companies like Royal Dutch Shell (RDS-A) and BP (BP).
This week, oil major ConocoPhillips (COP) cut its quarterly dividend from $0.74 a share to $0.25 a share. Like most other oil companies, it also lowered its capital expenditures guidance from $7.7 billion to $6.4 billion.
Meanwhile, oil giant BP announced a 91% decline in quarterly earnings and a record annual loss of $5.2 billion this week. Still, the company is committed to keeping its dividend. As CEO Bob Dudley told analysts in London...
We know how important the dividend is to our shareholders. We're not going to drop the company off a cliff. But I think the balance sheet is strong right now.

The only problem: BP added $5 billion of debt to its balance sheet in 2015, bringing its total to around $150 billion. And that debt pile is growing.
So... does BP have some secret weapon it's holding back to avoid cutting its dividend like its fellow competitors? No, it doesn't. It's reeling like every other oil company.
But lots of pensioners hold BP shares. And Dudley doesn't want to be the guy to tell the British investors he's cutting their beloved dividends (even though it's prudent business to do so).
But the pain in the oil patch still gets worse...
On Tuesday, Moody's rival Standard & Poor's (S&P) went one big step further, announcing it was taking "rating actions" on 20 investment-grade oil and gas companies, including actual downgrades on 10 firms.
The downgrades included Chevron (CVX), Apache (APA), Continental Resources (CLR), Devon Energy (DVN), Hess (HES), and Marathon Oil (MRO), among others. It was Chevron's first S&P debt-rating cut since 1987.
S&P also put ExxonMobil (XOM) – one of only three remaining AAA-rated companies in the U.S. today, along with software giant Microsoft (MSFT) and Big Pharma icon Johnson & Johnson (JNJ) – French oil giant Total (TOT), and BP on "credit watch with negative implications"... meaning they could be next.
S&P says it will decide whether to downgrade these companies within 90 days. If it does, it would mark Exxon's first downgrade in 86 years. The company has been rated AAA by S&P since 1930... 86 years.
In other words, the company has maintained its stellar rating since the beginning of the Great Depression... yet it's in danger of losing it today.
Should BP – and the other oil companies – experience a rating cut, then borrowing to maintain that unsustainable dividend will become even more expensive.
But it's naïve to think that the problems stop with energy...
A week ago, investment bank Deutsche Bank announced a $7.3 billion annual loss, its first since the financial crisis. This week, investment bank Credit Suisse announced a nearly $6 billion loss for the quarter. Shares fell to their lowest levels since 1991.
But the problems in the financial sector go further than these European giants...
Since mid-July, the Financial Select Sector SPDR Fund (XLF) has consistently and dramatically underperformed the benchmark S&P 500 Index. You can see this underperformance in the following chart...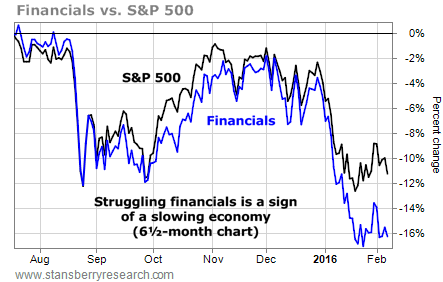 Bank stocks, in general, are struggling. Sector giants Wells Fargo (WFC), JPMorgan Chase (JPM), and Bank of America (BAC) are down an average of about 15% through 2016. According to Bloomberg Business, it's the worst start for these companies in several years.
Financial companies lost more than $360 billion in market cap in January alone, the second-largest single-month loss since 1990.
The sector serves as a major bellwether for the U.S. economy. These companies' share prices rise and fall with America's ability to make and save money, launch new businesses, and repay debts.
In a struggling economy, demand for bank loans falls... and borrowers struggle to pay them back. People stop spending frivolously. So when banks underperform the broad market, it's a "canary in the coal mine" that suggests the economy isn't doing well.
As regular readers know, Porter believes these problems will get much worse before they get better. The wheels are just starting to come off for the economy... and these signs in the energy and banking sector are just the beginning. Things could get much, much worse.
The thing is, even if we're wrong, you should still be ready for the worst-case scenario. It's prudent portfolio management. And if you haven't yet acted to protect your portfolio, it's not too late... You can take action today. And we'll show you exactly what to do.
Each Friday afternoon, we're publishing one new module (seven in all) that walks you step by step through everything you need to know to protect your savings – and even profit – during a bear market. This includes how to raise cash, how to "hedge" your portfolio by short-selling, how to take advantage of distressed opportunities, and much more.
Module 1 – "How to Raise Cash, How to Safeguard It, and How to Hedge It With Gold" – was published on January 22.
In it, Porter and his team explain why cash is so critically important during bear markets... exactly what cash instruments to buy... how to make sure your cash is safe... and the best ways "hedge" your cash with gold.
Module 2 – "How to Use Distressed Corporate Bonds to Generate Current Income and Future Capital Gains During a Bear Market" – was published on January 29.
This module details why bonds are safer than stocks... explains why buying distressed bonds for pennies on the dollar is among the best ways to make a fortune in a bear market... and even shares a handful of opportunities from our $5,000-a-year Stansberry's Credit Opportunities service.
Module 3 – "How to Make Massive Gains When the Market Reaches 'Maximum Pessimism'" – was published yesterday.
It focuses on distressed equities. In a bear market, you want to own the world's best companies... and buy them when they go "on sale." We're talking about "trophy assets" – the companies that own the highest-quality assets in the world.
In the module, we show you which resource stocks you can buy at huge discounts to the value of their assets. These are the companies that can return several hundred percent on your investment in the coming years.
We believe the Bear Market Survival Program is among the most important research we've ever published. And that's not just "talk"...
If you missed out on these lessons, don't worry. It's not too late...
Any readers who join our Bear Market Survival Program today will get instant access to the first three modules... and will be among the first to receive the rest of the modules as they are published.
We know we could charge thousands – perhaps tens of thousands – of dollars for this research. But because we want every Stansberry Research subscriber to be prepared for whatever comes next, we've made this program extremely affordable.
You can gain access to the first three modules for just $87. In essence, you can read all of this research for less than the price of a nice dinner out.
If you're interested in protecting your wealth during the coming bear market – and prospering in the months and years ahead – this offer is an absolute no-brainer.
Click here to get started
.
Regards,
Justin Brill and Sean Goldsmith