By Justin Brill
Saturday, May 23, 2015
The Weekend Edition is pulled from the daily Stansberry Digest. The Digest comes free with a subscription to any of our premium products.
The European Central Bank (ECB) is speeding up its quantitative easing (QE) program...
Since the ECB began QE in March, it has been buying 60 billion euros of bonds each month.
But in a speech earlier this week, ECB Executive Board member Benoit Coeure said the central bank will "front load" the program in May and June – by buying even more than 60 billion euros of bonds each month – to make up for an expected "low liquidity" period during the slow summer months. He said the bank may also "back load" with bigger bond purchases in September.
Coeure said the recent plunge in European bonds is "no cause for concern," but that the "rapidity of the reversal" was worrying. He also claimed the announcement was not intended to calm the recent volatility in European markets before the summer slowdown in trading, but that's exactly the effect it had...
European stocks and bonds rallied on the news, while the euro tumbled as much as 1.6%.
Coeure didn't say how big the "front loaded" purchases would be, but the takeaway is clear: ECB head Mario Draghi and his team are committed to doing whatever it takes to engineer their own version of the "Bernanke Asset Bubble" in Europe. The table is set for a massive rally in European stocks.
Back in the U.S., data this week showed new home construction surged last month to the highest levels in seven years. Housing starts increased 20.2% to a 1.14 million annualized rate, the highest since November 2007.
Our colleague Paul Mampilly isn't surprised. He thinks this trend is just getting started...
I believe housing construction is going to continue to be strong for a long time... certainly longer than anyone expects right now. Why? Because we simply haven't built enough houses.
You probably think that's crazy, but it's true. Let me explain. You see, on average, we need about 1.5 million housing starts per year. We haven't come anywhere close to that for more than seven years now. Three more years and it'll be a decade of underbuilding.

Paul explained that it's not just that we haven't been building enough new homes... existing homes are getting old...
The 2013 American Housing Survey showed that the median age of a house is now 40 years. In other words, our housing stock is old and getting older.
And we haven't come close to building enough over the last seven years to replace this housing. Based on the survey, 79% of the houses in the United States were built before 1990... 66% were built before 1980... and 50% were built before 1970. You get the point.

And he thinks there are still plenty of opportunities to profit from this trend...
To make a long story short, everything is in place to keep housing and construction economic activity going for a long time... I'd say at least three years.
That means many of the companies involved in homebuilding and related activities are going to see higher sales and earnings for a prolonged period. These companies include homebuilders, housing-materials companies, suppliers, etc. The best way to get exposure to these stocks in one shot is the SPDR S&P Homebuilders Fund (XHB). It has a mix of companies from homebuilders to retailers to suppliers... all of which will benefit from this trend.
Of course, Paul isn't the only Stansberry Research analyst bullish on housing...
As we've mentioned many times, Steve Sjuggerud was one of the first analysts anywhere to turn
bullish on housing
. And he's still bullish today.
In fact, Steve thinks housing is the best place to invest in the U.S. today. In the May issue of True Wealth, he explained why...
It might surprise you to hear this... At this moment, far more of my own personal net worth is in north Florida real estate, compared with the stock market. The value today in Florida real estate is incredible. But it isn't just Florida. Housing and real estate in most of America is cheaper than almost anyone realizes.
You see, for the typical home buyer, housing value has little to do with actual home prices. And it has everything to do with monthly payments. "Can I afford the monthly payment on this home?" That's the question home buyers have to answer before pulling the trigger. And right now, the answer for most folks is "yes." Here's why...
Two things have happened... 1) we saw the worst bust in house prices in generations and we still haven't fully recovered, and 2) mortgage rates are near all-time lows, below 4%. Because of these two things, house prices are near record levels of affordability. Take a look...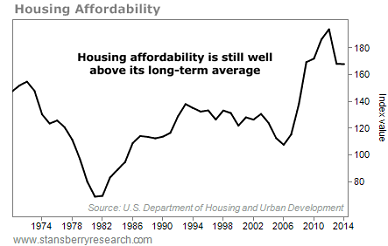 I've been writing this for years, but the story is still true today. It's still one of the best times in American history to buy a home.
A quick note to end today's essay...
You may have heard by now that we've launched a brand-new trading service called the Professional Speculator (out Thursday)...
Done right, speculating can lead to life-changing gains. But for most people, it's nearly impossible to profit on a consistent basis. Sure, you might get lucky here and there... But doing it over and over requires far more than luck.
That's why we are thrilled to partner with Paul Mampilly, who has a proven track record of successful speculation. Since 2008, Paul has quintupled his net worth through small, little-known stocks. He has booked gains of 2,539% on a company called AVI BioPharma... 696% on ARIAD Pharmaceuticals... and 355% on Exact Sciences, to name just a few.
Paul doesn't have to work for a living anymore. But we're excited that he agreed to write for Stansberry Research. And we think Professional Speculator could end up being one of the most successful trading advisories in our industry.
Until recently, you would have never had access to Paul's expertise (unless you were a high-net-worth individual who invested with Kinetics Asset Management, the $25 billion fund he used to co-manage).
But now, you'll be able to profit from all of Paul's best recommendations. You'll have a chance to get in on little-known companies with early stage breakthroughs... companies with hundreds-of-percent upside. And Paul – who won the Templeton Foundation investment competition in 2009 – will lead the way.
Paul has been waiting for a chance to recommend a little-known company that he predicts could revolutionize medicine and make you up to 26 times your money over the next decade. That would turn every $5,000 stake into $130,000. Right now, you can get started on a SIX-MONTH risk-free trial subscription to
Professional Speculator
. And because this service is brand-new, we're offering something incredible: You can get
Professional Speculator
for
LIFE
without paying an extra penny.
Learn more here
.
Editor's note: As we noted, we are thrilled to have Paul Mampilly as part of the Stansberry Research team. He brings along an incredible track record and more than 20 years of investment experience.
And right now, Paul has found one of the best speculations he has ever come across. This company has developed what could be the
biggest medical breakthrough of the next decade
. You can gain immediate access to this pick – as well as his other triple-digit-upside opportunities – with a risk-free trial subscription to the
Professional Speculator
.
Click here to learn more
.
Date Range:5/14/2015 to 5/21/2015
Date Range:5/14/2015 to 5/21/2015