Eighteen months ago, most folks would have told you the American consumer was in trouble. Most folks would have argued the economy was in terrible shape. Most folks would have pointed out all the reasons to doubt the country's recovery.
But we knew things weren't as bad as the pessimists would have you believe. And we knew it's hard to keep the American consumer down.
That's why, in early 2013, we suggested DailyWealth Trader subscribers buy shares of credit-card giant Discover Financial (DFS).
And now we're up 51% on the trade.
Why am I telling you this? It's not just to brag.
I'm telling you because even if you're not in Discover, it's well worth your time to track the health of this company...
You see, even today, the pessimists will point out everything that's wrong with America's economic situation. And I agree that the country faces major challenges.
But when you look at the actual data, you'll see things aren't all that bad.
Discover is a $30 billion credit-card company. Like many financial stocks, it makes money borrowing at low rates and lending at higher rates. Its health depends on folks being willing to borrow at those higher rates... and being able to pay the money back.
In other words, as the American consumer goes, so goes Discover... And the American consumer is going shopping.
Consumer spending jumped 3.6% over the last year to hit a new all-time high last month.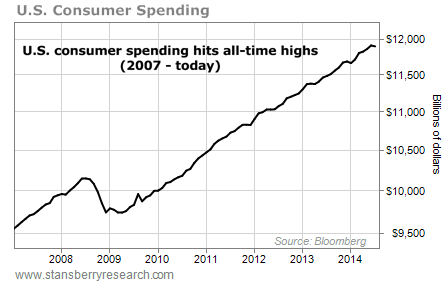 You might think that's bad news. Many of the problems we saw in the credit crunch of 2008 were caused by folks buying more than they could afford. But if you look at the data, you'll see the American consumer has bounced back from tough times.
Personal disposable income is at a new high. And the credit-card delinquency rate is just 2.3% – its lowest in over 20 years.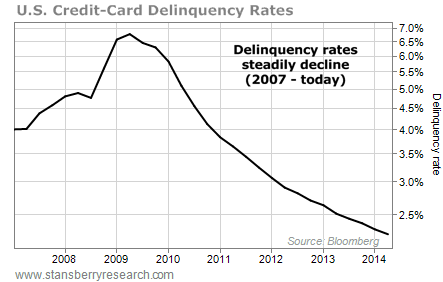 Over the last year, the size of Discover's business (measured by credit-card balances) has grown 6%. Earnings climbed 13%.
Since our original recommendation, shares have marched from the lower left of the chart to the upper right. They just broke out to a new all-time high.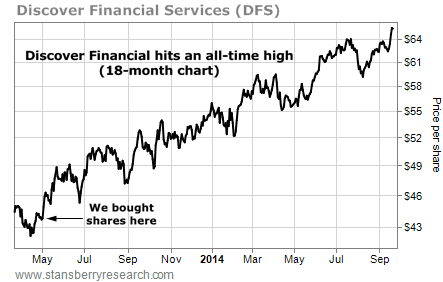 In sum, despite a gloomy prognosis from the pessimists, American consumers live on... and are back to doing what they do best.
Trade accordingly.
Good trading,
Amber Lee Mason