It has been a tough month for gold stocks. And the selling isn't over yet.
Back then, I suggested traders should take profits off the table and consider tightening stops on their gold-stock positions. And for folks looking to buy into the sector, I suggested you might get a better chance to do so in a few weeks.
Well... it has been a few weeks. With GDX trading cheaper today, you have a much better buying opportunity right now than you did in late April...
Take a look at this updated chart of GDX...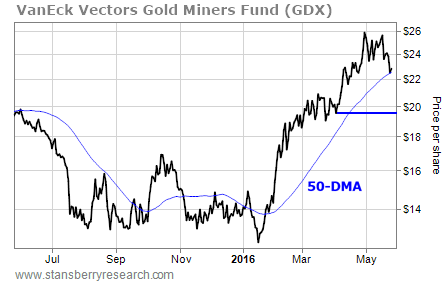 The gold sector is oversold in the short term. GDX is sitting on the support of its 50-day moving average. This is a reasonable spot at which to expect a short-term bounce.
But a more significant, intermediate-term rally is still at least a few weeks away. You see, gold-stock bulls have two problems right now.
First, the commercial traders' net short interest – shown by the weekly Commitments of Traders (COT) report – is still at more than 290,000 contracts. That number needs to drop back down to less than 100,000 contracts before we can start looking for another rally in gold. (You can read more about the commercial traders' positions
here
.)
And the BPGDM – which triggered the sell signal last month – is still too high. Here's the recent chart...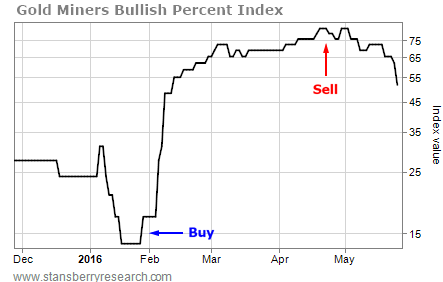 A bullish percent index is a gauge of overbought and oversold conditions. It measures the percentage of stocks in a sector that is trading in a bullish technical formation. Since it's measured as a percentage, a bullish percent index can only reach as high as 100 or fall as low as zero.
Typically, a sector is extremely overbought when its bullish percent index rallies above 80. It's extremely oversold when it drops below 20. Trading signals are triggered when the index reaches extreme levels and then reverses.
We got a sell signal from this indicator last month when it turned lower from extreme overbought conditions. But we're still far away from getting a buy signal.
The BPGDM traded at 51 yesterday. That's a neutral condition. It needs to get closer to oversold before it can generate a buy signal. A reading of less than 30 on the BPGDM would suggest we're getting closer to the end of the current decline and ready for another rally in the gold sector.
For now, though, despite the potential for a short-term bounce off of its support level, the gold sector still looks like it has lower to go.
Best regards and good trading,
Jeff Clark