There's only one thing I (Porter) want to show you and talk about in today's essay. It's the single-best data point I've seen that demonstrates how completely out of control the world's credit markets have become...
From an issue of the Wall Street Journal this week:
Over the six months through September, more than $110 billion of auto loans have been originated to borrowers with credit scores below 660, the bottom cutoff for having a credit score generally considered "good," according to a report Thursday from the Federal Reserve Bank of New York. Of that sum, about $70 billion went to borrowers with credit scores below 620, scores that are considered "bad."
The amount of super-low-quality auto lending is now surpassing the totals of dubious lending that peaked in 2006. Total auto lending in the U.S. is now more than $1 trillion – the all-time highest amount of debt tied to cars in the U.S.
Newsletter publishers like to say the "sky is falling" all the time about every small problem we face. But this isn't a small problem. The comptroller of U.S. currency is issuing a warning to anyone who will listen. He says this situation with auto loans reminds him "of what happened in mortgage-backed securities in the run-up to the crisis" of 2008.
Why would anyone make these loans? Well, subprime lending is incredibly profitable when the cost of capital is cheap. By lowering finance companies' cost of capital to almost nothing, the Federal Reserve spawned a huge wave of subprime lending.
These firms pay 2%-3% for capital and can lend it for more than 20% annually to folks who can't get financing any other way. That's a huge "spread," which, with a little bit of leverage, can generate outrageously high returns on equity.
The problem is that eventually the loans will go bad and the resulting losses will inevitably wipe out these businesses. It's just a matter of time. So... where are we in this cycle? Let's take a look...
I've been warning about this growing problem and its inevitable consequences since March 2014. (I've "unlocked" the issue for you to read
here
.) And I've been updating our work in this area ever since.
In our Investment Advisory publication, we recently recommended shorting one of the largest subprime-auto-finance companies in the U.S., Santander Consumer USA (SC). If you haven't read that issue, I urge you to read it carefully.
As my subscribers know, one of the architects of the last big credit bust – whom we call the "Dark Angel of Bad Debt" – has joined the company as a "nonexecutive chairwoman." While it's not clear what responsibilities that title entails, Santander Consumer USA's stock has fallen from around $25 to around $18 a share since she joined the firm. The falling share price is a sign investors are worried that the auto loans this firm owns and has been selling to investors around the world could end up going bad, costing billions in losses.
They're right to be worried. Charge-offs in the company's $36 billion portfolio of auto loans (all subprime) that were originated in 2014 have risen to 26%. So is the company moving toward making better loans? Nope. Loans to borrowers with FICO scores less than 540 have increased to 46% of the portfolio so far in 2015.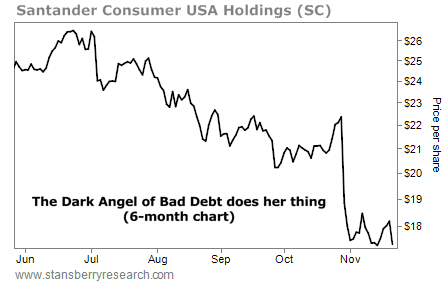 The auto lenders all say "it's different this time" because cars can be quickly and easily repossessed and sold through auction. So far, the total amount of car-loan delinquencies remains low (around 3%). And so far, the average price of used cars sold at auction remains high (see the indispensable Manheim Used Vehicle Value Index chart below).
But just like with mortgages, the people who are judging the market for cars are completely missing how much low-quality lending is responsible for this kind of sudden growth and how it can warp the market. Demand for cars is being vastly inflated right now by the outrageous, almost unthinkable amount of subprime lending. And trust me, that won't last. It never, ever does.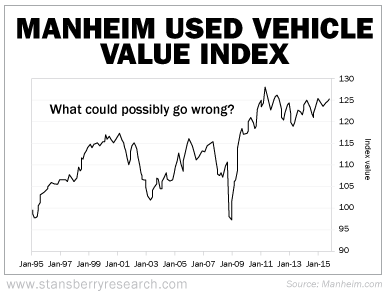 Another stock to watch is America's Car-Mart (CRMT), a big used-car dealer that specializes in subprime auto lending.
The company now has 146 locations in the U.S. It describes its business model as "integrated auto sales," which is a nice way of saying it only sells cars to people who are willing to pay outrageous interest rates.
The company recently disclosed that almost every possible measure of the credit quality of its portfolio was in a significant decline: Net charge-offs are now 8% of receivables (up from 7%) and provision for credit losses now equals 32% of sales (up from 26%). What is management doing about the rapidly deteriorating ability of its clients to afford the company's absurdly high interest rates? Buying back stock, of course – most recently, 89,658 shares. Brilliant plan, boys...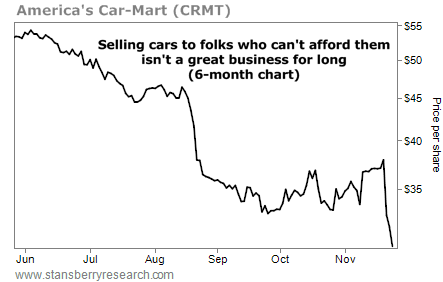 Finally, I would also warn you to stay away from Capital One Financial (COF) and General Motors (GM), since both are big players in the world of subprime auto finance.
But the real problem isn't these companies or their incredibly fragile business models. The real problem is that the amount of subprime lending in the auto industry suggests that we're approaching a huge day of reckoning.
Today, subprime lending makes up nearly 40% of all auto loans. These loans will go bad. When they do, the industry will be completely devastated – every bit as bad as when the mortgage bubble popped. The size of the auto-lending business (more than $1 trillion in loans) means that when this happens (and it certainly will happen), the resulting damage will hurt the entire financial sector and our economy.
As I've been saying...
the coming default cycle
is going to be massive. Millions of people will be wiped out. But it doesn't have to be a tragedy for you. As loans go bad, billions and billions of assets will simply swap owners. Don't think of it as a depression. Think of it as a tremendous, legal transfer of wealth... and make sure you're on the right side of that deal. To learn how – and to learn more about our brand-new distressed-debt newsletter –
click here
.
Regards,
Porter Stansberry