The U.S. stock market isn't stable right now.
The S&P 500 has moved more than 1% in 13 of the past 16 trading days. Stocks have gone from overbought to oversold and back again. Most technical indicators have been flipping back and forth between "buy" and "sell" signals each week.
Many European stock markets are acting the same way. Stocks in Germany, Spain, Italy, and France have been equally volatile. Even Japanese stocks have turned unstable. Hardly a day goes by where the Nikkei Index doesn't move 300 points or more.
So where should investors look for stability today?
If you're looking for steadily rising stock prices in today's market, look no further than China...
Yes, I know how odd that sounds. China is under communist rule. Its market is shrouded in a blanket of fraud and manipulation. It hardly seems like the poster child for safe investing.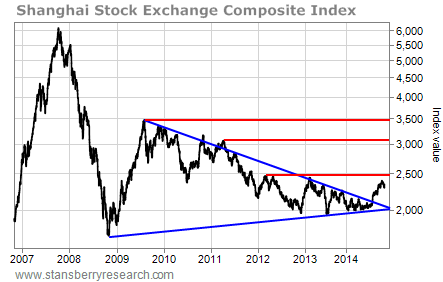 You can see that the SSEC has put in a series of higher highs and higher lows since breaking out of its long-term consolidating-wedge pattern (the blue lines) in July.
While the rest of the world's major stock markets are changing direction faster than a hummingbird on caffeine, China's market just keeps plodding higher.
The SSEC has resistance at about the 2,500 level. Once it can get above 2,500, there's a lot of room for China's market to move even higher. The next resistance level is all the way up at 3,100. That's more than 30% above Tuesday's closing price.
So if the recent volatility in U.S. stocks has you looking for calmer markets to invest in, look to China. It's one of the most stable markets in the world right now.
Best regards and good trading,
Jeff Clark